UPDATED TUESDAY - FEB. 10, 2009
THE ECONOMY - YOUR MONEY
Guantanamo on the Brink: Death Looms for Inmates Amid Hunger Strikes & Beatings
Mon, 09 Feb 2009 12:02:40 -0600
..............................................................................................................

Germany tells Obama where to go
Mon, 09 Feb 2009 03:46:19 -0600
..............................................................................................................

Pentagon signals imminent invasion of Mexico
Mon, 09 Feb 2009 08:07:44 -0600
..............................................................................................................

"NEWSWEEK"
.............................................................................................


FROM "MICHAEL SAVAGE"

THE SMOKING GUN


THE ACCIDENTAL PRESIDENT


IT'S CLEAR FROM THE PAST FEW WEEKS THAT BARACK OBAMA IS COMPLETELY OUT OF PLACE. IF YOU LOOK AT WHAT HE'S BEEN TRYING TO DO TO THE COUNTRY, IF YOU LOOK AT HOW HE HANDLES HIMSELF, IF YOU LOOK AT THE WAY HE DEALS WITH THE MEDIA, IT'S PLAIN TO SEE THAT HIS ELECTION WAS DUE NOT TO HIS OWN ABILITY, BUT TO A PERFECT STORM OF EVENTS.

FIRST, GEORGE W. BUSH DESTROYED THE ECONOMY. HE DRAINED THE TREASURY WITH AN ENDLESS WAR. HE SOLD OUR MANUFACTURING BASE OUT TO THE REST OF THE WORLD. HE GAVE BILLIONS IN AIDS MONEY TO AFRICA TO BURNISH HIS IMAGE WITH LIBERAL JOURNALISTS AND HISTORIANS. SO AMERICA BECAME SICK OF GEORGE W. BUSH.

SECOND, JOHN MCCAIN RAN THE WORST PRESIDENTIAL CAMPAIGN IN LIVING MEMORY. HE PRAISED OBAMA CONSTANTLY. HE REFUSED TO LET HIS SUBORDINATES ATTACK OBAMA. HE NOMINATED AN UNQUALIFIED ALASKAN HILLBILLY AS HIS VICE PRESIDENT. SO AMERICA BECAME SICK OF JOHN MCCAIN AS WELL.

THIRD, WALL STREET COLLAPSED AT THE HEIGHT OF THE ELECTION SEASON. THE COUNTRY SAW ITS NET WORTH PLUMMET. THE COUNTRY SAW MILLIONS OF JOBS LOST. THE COUNTRY SAW THE COUNTRY SAW BILLIONS GO TO BANKERS WHO HAD CONNECTIONS TO THE BUSH ADMINISTRATION. AND SO AMERICA BECAME SICK OF THE REPUBLICAN PARTY. AND IN SENSELESS DESPERATION, AMERICA ELECTED AN UNKNOWN COLLEGE PROFESSOR AS ITS PRESIDENT.

SO WHEN YOU SEE OBAMA GIVING HIS NEXT SPEECH, AND YOU NOTICE HOW OUT OF PLACE HE LOOKS AT THE PODIUM, IT'S NOT BECAUSE YOU'RE IGNORANT OR EVIL OR RACIST. IT'S BECAUSE THIS MAN IS COMPLETELY OUT OF HIS DEPTH. HE SNAPS AT THE MEDIA WHEN THEY ASK HIM SERIOUS QUESTIONS. HE LOOKS BAFFLED WHEN HE GETS ON BOARD AIR FORCE ONE. AND THE ONLY ECONOMIC SOLUTION HE SEEMS TO KNOW IS TO GIVE AWAY MONEY TO HIS FRIENDS. BARACK OBAMA IS THE ACCIDENTAL PRESIDENT. BE PREPARED FOR THE WORST.
........................................................................................................................................................................
Obama May Place U.S. Under International Criminal Court
02/10/2009
Waterboarding. Abu Ghraib. Detaining terrorists at Guantanamo Bay. Dissing Hans Blix. These, as seen by the Left, are the cardinal sins of George W. Bush's administration. Set aside the fraternity party-like nonsense that took place at Abu Ghraib and what's left are actions taken to protect U.S. interests.
But self-loathing Americans whose minds are confined in the cult of globalism don't see it that way. Each of these "offenses" has at least one thing in common: they hurt the feelings of foreigners. Insensitivity to the outside world, U.S. internationalists argue, is a stain on Uncle Sam's reputation from which we must repent.
With that in mind, one more "offense" must be included in the list of Bush's sins. It occurred May 6, 2002, when John Bolton, on orders from the President, withdrew the U.S. from the Rome Statute of the International Criminal Court (ICC). Oh, there were terrible tantrums in Turtle Bay that day! Globalists were dismayed because Mr. Bush's rejection of the ICC was a vote for American sovereignty -- a refusal to cede authority to international government and a court that is not bound to the principles of the U.S. Constitution, far less our laws.
........................................................................................................................................................................
Stimulus contains rationed medicine
'Safe, effective' treatments soon to be limited by 'cost'
---
Posted: February 09, 2009
9:29 pm Eastern


By Bob Unruh
© 2009 WorldNetDaily
The former lieutenant governor of New York is warning that the $50 billion that President Obama expects to spend in the next few years on a nationwide digital health records system for every individual easily could, and probably will, result in rationed medical care.
WND recently reported on a little-discussed provision in Obama's plan that would demand every American submit to a government program for electronic medical records without a choice to opt out, raising alarms for privacy advocates.
They said patients might be startled to discover documentation on abortions, mental health problems, impotence, being labeled as a non-compliant patient, lawsuits against doctors and sexual problems could be shared electronically with, perhaps, millions of people.
Sue A. Blevins, president of the Institute for Health Freedom, said unless people have the right to decide "if and when" their health information is shared, there is no real privacy.
************************************************************************************************
Washington, Moscow at Cross-purposes on Nuclear Iran
DEBKAfile Special Report
February 10, 2009
While US president Barack Obama told the media early Tuesday, Feb. 10, that the US would pursue direct talks with Iran, an official Russian spokesman said his government would complete Iran's nuclear reactor at Bushehr within three months. DEBKAfile's sources report that Obama is planning on the dialogue with Tehran beginning in late June.
Mahmoud Ahmadinejad replied by welcoming talks based on mutual respect provided the changes in Washington were "fundamental and not just tactical."
The three statements hung over Israel's general election Tuesday, as 5.2 million eligible voters turned out to choose a prime minister capable of military action to halt Iran race toward a nuclear bomb.
Despite the talk in Washington and Moscow of eased strains in their relations, the Kremlin has clearly come down on the side of giving the Iranian leaders a strong hand in their coming dialogue with the Obama administration. They will come to the table without giving up uranium enrichment in the face of UN sanctions, with long-range ballistic missiles capable of placing a satellite in orbit and having acquired a key element for its nuclear program, a functioning reactor at Bushehr capable of producing processed plutonium.
Talking to reporters, early Tuesday, President Obama said: "In the coming months, we will be looking for openings… to start sitting across the table face to face" with Iran. He stressed that the administration has deep concerns about Iranian policy, citing Iran's support for Hizballah and Hamas, its "bellicose" language to Israel and its pursuit of a nuclear weapon.
The US must use all the tools at its disposal in dealing with Iran and that "includes diplomacy," he said.
Iran must understand that the U.S. finds Iranian actions such as funding of terrorist groups unacceptable, said Obama. But he added that "there's a possibility, at least, of a relationship of mutual respect and progress."
DEBKAfile's exclusive Washington sources add: Following internal White House deliberations, Obama decided that his talks with Iranian leaders would not begin before late June, by which time the results of Iran's presidential election earlier that month would be known. The incumbent Mahmoud Ahmadinejad will be running for a second term against the reformist leader Muhammed Khatami.
(The tactics the US president has charted for these talks were laid out in detail for the first time in the latest DEBKA-Net-Weekly issue #383 on Feb. 6.)
A few hours before Obama spoke, Alexander Maryasov, director of one of the Russian foreign ministry's Asia departments, said: "I want to stress once again the readiness of the Russian side to complete the construction of the Bushehr nuclear plant within the set timeframe. I believe that after the shipment of nuclear fuel for the electric power plant took place last month, the Iranian side should have no doubts on this score."
DEBKAfile's military sources disclose that Russia delivered 82 metric tons of nuclear fuel to power the plant in the second half of January. This is enough both to fuel the manufacture of electricity and of plutonium.
Iran's Atomic Energy Organization said earlier that the Bushehr plant was 94.8% complete. Foreign minister Manouchehr Mottaki said it was due to be operational in the first half of 2009.
........................................................................................................................................................................
G-D HAS NO MERCY THIS TIME
This is the price this country is going to pay for rejecting the laws of G-D in this country and around the world, this is world wide and this time it will be a living nightmare, because of the greed and dishonesty and the corruption and the lies and the deceit of the world leaders, especially here in AMERICA.
I have been telling you this for years and now its too late, all the good people can do now is try and prepare to survive, read DEUTERONOMY CHAPTER 28 and you will see what G-D is going to do.

If you were the Creator of this World and saw what your good intentions have created you too would be sick, just ask yourself what would you say and WHAT WOULD YOU DO ??
Having power, being rich, having influence, thinking you are above the law of G-D will no longer help you. You are about to be humbled if you fit into the category of the crooked elite. Only G-D has the power of this world and not the dishonest and phony politicians and thieves that have been running this world. IT IS NOW TWO MINUTES TO MIDNIGHT. READ YOUR BIBLE AND FOR THE RIGHTEOUS, SEAL YOUR PRIMERS TO PROTECT YOU AND YOUR FAMILY FROM THE HUMAN VULTURES...THEY WILL BE COMING...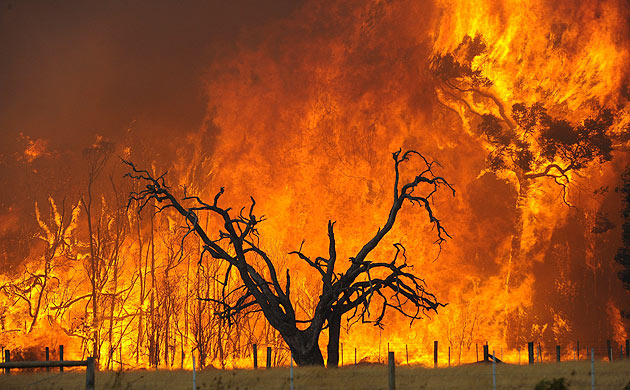 Saturday, 7th February 2009
President Obama has had, by general consent, a torrid First Fortnight. To put it another way, it has taken precisely two weeks for the illusion that brought him to power to be exposed for the nonsense that it so obviously was. The transformational candidate who was going to sweep away pork-barrel politics, lobbyists and corruption has been up to his neck in sleaze, as eviscerated here by Charles Krauthammer. Despite the fact that he came to power promising to 'ban all earmarks', his 'stimulus' bill represents billions of dollars of special-interest tax breaks, giveaways and protections -- which have nothing to do with kick-starting the economy and everything to do with favouring pet Democrat causes.
He has been appointing one tax dodger, lobbyist and wheeler-dealer after another. After appointing one official,Treasury Secretary Timothy Geithner, who had unaccountably forgotten to pay his taxes, he then watched his designated Health Secretary Tom Daschle fall on his sword because he too had taken a tax holiday. Daschle was furthermore a prominent actor in the world of lobbying and influence-peddling. Leon Panetta, Obama's nominee for Director of the CIA has also, according to the Wall Street Journal, consulted for prominent companies and sat on the board of a public affairs firm that lobbies Congress. The Weekly Standard reports that Secretary of Labour nominee Hilda Solis was not only involved with a private organization lobbying her fellow legislators on a bill that she helped sponsor, but she apparently kept her involvement secret and failed to reveal a clear conflict of interest.
In foreign policy, Obama has started by trashing his own country through grossly misrepresenting its history and grovelling to America's enemies such as Iran, which has flicked him aside with undiluted contempt. He has gratuitously upset America's ally India by suggesting that America should muscle in and resolve the Kashmir question.
His right hand doesn't seem to know what his left hand is doing. He reportedly asked retired Marine General Anthony Zinni to be US ambassador to Iraq, but then abruptly withdrew the appointment without explanation after it had been confirmed by Secretary of State Hillary Clinton. And the precise role he is offering Dennis Ross – special envoy to Iran? Special adviser to Hillary? Special adviser to other special advisers? – remains mired in confusion.
I have argued before however that, given Obama's radical roots in the neo-Marxist, nihilist politics of Saul Alinsky, it is the undermining of America's fundamental values that is likely to be this President's most strategically important goal. I have also suggested that, since this agenda is promoted through stealth politics which gull the credulous middle-classes while destroying the ground upon which they are standing, his second-tier appointments should be closely scrutinised.
And here's a humdinger. Obama has picked a man called David Ogden to be deputy Attorney-General. Ogden has made his legal career from representing pornographers, trying to defeat child protection legislation and undermining family values. As FoxNews reported this week, he once represented a group of library directors arguing against the Children's Internet Protection Act, which ordered libraries and schools receiving funding for the Internet to restrict access to obscene sites. And on behalf of several media groups, he successfully argued against a child pornography law that required publishers to verify and document the age of their models, which would have ensured these models were at least 18.
The Family Research Council has more examples of his contribution to upholding American and western values. In one such case, he expressed the view that abortion was less damaging to a woman than having children:
In sum, it is grossly misleading to tell a woman that abortion imposes possible detrimental psychological effects when the risks are negligible in most cases, when the evidence shows that she is more likely to experience feelings of relief and happiness, and when child-birth and child-rearing or adoption may pose concomitant (if not greater) risks or adverse psychological effects ...
In another, co-authored brief, he argued that it was an unconstitutional burden on 14-year old girls seeking an abortion for their parents to be notified -- because there was no difference between adults and mid-teens in their ability to grasp all the implications of such a decision:
There is no question that the right to secure an abortion is fundamental. By any objective standard, therefore, the decision to abort is one that a reasonable person, including a reasonable adolescent, could make. [E]mpirical studies have found few differences between minors aged 14-18 and adults in their understanding of information and their ability to think of options and consequences when asked to consider treatment-related decisions. These unvarying and highly significant findings indicate that with respect to the capacity to understand and reason logically, there is no qualitative or quantitative difference between minors in mid-adolescence, i.e., about 14-15 years of age, and adults.
And how did the 44th President react to the growing public dismay over the mess he was making? He threw his toys out of the pram -- or perhaps that should read, he got into the pram. For he fled the scene of the disaster and sought the company of seven year-olds instead. As the Telegraph reported:
'We were just tired of being in the White House,' he told a group of excited seven-year-olds before discussing Batman and reading them a book.
Tired of being President – after two weeks!
Tax cheats, pork-barrel politics, ancillary child abuse, incompetence, chaos, treachery and infantilism. America – what have you done?!
************************************************************************************************

Netanyahu Warns Obama on Talks as He Challenges Livni (Update2)
By Jonathan Ferziger and Hans Nichols
Feb. 9 (Bloomberg) -- Even before Benjamin Netanyahu finds out whether he will be Israel's next prime minister, he is sending a message to President Barack Obama that he won't be pushed around.
Netanyahu, the Likud party candidate who narrowly leads Foreign Minister Tzipi Livni ahead of elections tomorrow, last week took reporters to Arab parts of Jerusalem, where he helped establish Jewish footholds when he was previously prime minister. No pressure, he said, would make him cede those neighborhoods "to our enemies."
Just as he confounded former President Bill Clinton in the 1990s, Netanyahu probably will resist if Obama pushes too hard to extract Israeli concessions for peace in the Middle East.
"He's extremely effective politically, unbelievably smart and relentlessly suspicious when it comes to the Arabs and the Americans," says former U.S. negotiator Aaron David Miller, author of "The Much Too Promised Land: America's Elusive Search for Arab-Israeli Peace."
************************************************************************************************
PREVIOUS BLOG - DON'T TREAD ON ME
PETER SCHIFF - THE AMERICAN DOLLAR
BENJAMIN NETANYAHU
CHANGE IS GOOD
Communist:

Obama working to nationalize U.S. economy
Claims 'people advocate president' pushing through radical agenda
---
Posted: February 08, 2009
7:30 pm Eastern
By Aaron Klein
© 2009 WorldNetDaily
Communist

Party

USA leader Sam Webb
President Obama is "considering" a radical agenda to nationalize the U.S. financial system, the Federal Reserve Bank, and private industries such as energy and other sectors whose future is "problematic" in private hands, claims the leader of the Communist Party USA.

In a major speech focused on Obama titled "Off and running: Opportunity of a lifetime," CPUSA leader Sam Webb also alleges Obama's administration is considering turning education, childcare, and health care into "no profit zones;" rerouting investment capital from military infrastructure to "green economy" projects and public infrastructure; and waging a "full scale" assault on global warming.

"We now have not simply a friend, but a people's advocate in the White House," declared Webb at a recent speech in Ohio for People's Weekly World Communist newspaper.

"An era of progressive change is within reach, no longer an idle dream. Just look at the new lay of the land: a friend of labor and its allies sits in the White House," Webb proclaimed.

************************************************************************************************

Outgoing Israeli government bargains away military success in Gaza
DEBKAfile Special Analysis
February 8, 2009
All too quickly Israel's three war leaders - prime minister Ehud Olmert, defense minister Ehud Barak and foreign minister Tzipi Livni - forgot the goals they set for the three-week military offensive launched against Hamas on Dec. 27, 2008: That Operation Cast Lead would not halt until security prevailed in southern Israel, that the eight-year Palestinian missile offensive be brought to an end and that Hamas never be allowed to rearm for a fresh assault of terror.
Six weeks later, the Islamists terrorists are reaping the spoils of a war they lost.
Jerusalem is feeding Egyptian mediators with concession after concession to keep Hamas at the negotiating table in Cairo and talking about a long-term truce. Frustrated Israeli commanders warn their victory is being traded to buy undreamed-of gains for Hamas, such as the creeping recognition of the Palestinian Islamist group as the Gaza Strip's legitimate ruling power and acceptance of the enclave's status as a forward Iranian base on Israel's southern border. The deal on the table in Cairo would moreover lead to perpetuating the separation between the pro-Western West Bank and the pro-Iranian Gaza Strip, generating a fixed impediment to any discussion of a potential Palestinian state.
Saturday, Feb. 7, defense minister Barak Hamas granted safe passage to Hamas leader Mahmoud A-Zahar to come out of hiding in Gaza for the first time since the hostilities began. He flew to Cairo and on to Damascus to deal with the release of the Israeli soldier Gilead Shalit, held since he was kidnapped in 2006. By this concession, Barak gave Tehran, from which Hamas-Damascus takes direct orders, the last word on all these transactions.
Barak is believed to have promised Egypt that other Hamas leaders may also safely emerge from their bunkers as long as the Cairo negotiations continue, even though Hamas has made no commitments of any kind and continues to shoot missiles into Israel as well as smuggling arms.
As Israel's general election looms Tuesday, Feb. 10, Barak, who leads the Labor party, and his colleagues are disseminating pink clouds of optimism while pursuing steps that reverse the goals of Operation Cast Lead: They are solidifying Hamas' strength and its grip on the Gaza Strip for years to come.
DEBKAfile's military sources count eight areas in which the outgoing government is relinquishing assets to Hamas:
1. Military attacks on Palestinian military targets have been suspended in the Gaza Strip. Hamas has offered nothing in return except for an oral undertaking to Egypt to try and keep the level of missile fire down. The Israeli air force responds to each salvo by bombing empty Palestinian buildings and sand dunes.
2. Israel has suspended targeted strikes against Hamas leaders and commanders according to an understanding with Cairo.
3. According to another understanding, Israel will allow an increasing number of supply trucks and types of freights to enter the Gaza crossings daily.
This is a virtual surrender to Hamas' demands for fully opened crossings (translation: end of Israel's embargo of the Gaza Strip). Hamas has not been held to any guarantee for ending its smuggling of arms - or any other quid pro quo.
4. Israel has also promised Egypt to gradually lift its naval blockade of Gaza.
5. Jerusalem has given ground on its initial demand to remove Hamas from the crossings and pass them to Palestinian Authority control. The deal emerging is for foreign monitors to be posted on those crossings and report to Hamas. This is another form of Israeli recognition of the Palestinian extremists' rule of the Gaza Strip and its control of Israel's southwestern frontier.
If approved, it would also perpetuate the divide between the pro-Iranian entity in the Gaza Strip ruled by Hamas and the pro-Western territory of the West Bank under the control of its rival, Mahmoud Abbas' Palestinian Authority, which Hamas kicked out of the Gaza Strip in 2007
Israeli military sources warn that the eventual upshot of these Israeli concessions will be the collapse of Abbas' rule. Hamas will be able to use the Gaza Strip as a jumping-off base for taking over the West Bank as well.
It is a matter Israeli national policy to withhold recognition from the Palestinian Hamas – which the US and European Union also list as a terrorist organization for its commitment to violence and Israel's destruction. Yet, by knuckling under on this point, Israeli authorities will find themselves engaging Hamas officials willy-nilly in the day-to-day management of the shared border crossings.
6. Many of the soldiers who took part in the Gaza offensive declared that their mission was unfinished because Gilead Shalit remained in captivity. Instead of using its military feat to improve the chances for his release, Israel has allowed itself to be cornered here too. Hamas has upped its demand for the release of 1,000 jailed Palestinian terrorists including convicted multiple murderers of the Fatah, Tanzim, Popular Front and Hamas, which Israel was inclined to accept. Now the price has gone up to 1,250 inmates, all of whom are to be released at the Gaza crossings. The West Bank residents will be sent home later.
7. Israel has agreed to leave the monitoring of Hamas' arms smuggling in Egypt's hands, although Cairo's past record is notoriously wanting. For years, Egyptian police looked the other way as Hamas imported massive quantities of weapons through Sinai.
8. Not by a single word is Hamas required to dismantle its armed strength. Israel is therefore seen to be accepting the presence of an armed terrorist force on its border.
************************************************************************************************
FOREIGN TROOPS IN AMERICA
FOREIGN TROOP BUILDUP IN US
..............................................................................................

AUSTRALIA ON FIRE
************************************************************************************************
---
---
Obama surrenders to jihadists
---
Posted: February 09, 2009

1:00 am Eastern


© 2009
"Words matter in this situation because one of the ways we're going to win this struggle is through the battle of hearts and minds."
Does that statement from Barack Obama about the conduct of the so-called "war on terrorism" on CNN last week sound familiar?
For those old enough to remember or smart enough to learn the lessons of history, they should sound familiar – very familiar.
I remember another undeclared war fought against a vague enemy, without any definition of victory and rules of engagement that ensured defeat. It became a serious conflict, eventually costing the lives of 58,209 U.S. military servicemen under the leadership of two Democratic presidents – John F. Kennedy and, especially, Lyndon Baines Johnson.
Here's what Johnson said about Vietnam: "The ultimate victory will depend on the hearts and minds of the people who actually live out there."
Some lessons are just never learned.
And, maybe, that's why some wars can never be won.
Obama apparently believes, like Johnson did, that wars are about changing people's hearts and minds. Unfortunately, they are not. They are about vanquishing adversaries, bringing them to their knees, persuading them that they can never prevail. Then, and only then, is it possible to change their hearts and minds.
War is not a tool of social engineers who want to change human nature and reshape people's values. It is a life-and-death struggle for victory and survival.
If you're not willing or able to recognize that, you have no business fighting a war because you have little chance to win. You might as well get it over with and surrender.
Both Johnson and, now, Obama apparently never learned this lesson.
Johnson didn't allow the U.S. military to defeat the enemy in Vietnam.
Obama has signaled he will take the same approach in the war against Islamic jihadists. In fact, he probably won't even use the name of the enemy – preferring, instead, to define the adversary as those belonging to certain terrorist groups and pretending the death-cult ideology behind those groups can somehow be reasoned with.
************************************************************************************************
IMPORTANT LINKS

************************************************************************************************
MY FAVORITE LINKS

http://www.z-medica.com/quikclot/index.asp

www.thetrumpet.com

www.staceydean.org
************************************************************************************************