LEFT CLICK TO ENLARGE - AMERICAN GUNS CURRENTLY MANUFACTURED USE THESE PARTS.
NOTE COMPANY NAME AND ADDRESS IN LOWER LEFT CORNER...
UPDATED TUESDAY - MARCH 10, 2009
Texas makes emergency plans in case violence spills over from Mexico
dmontgomery@star-telegram.com

......................................................................................................................................
WALL STREET TRADER - THE WORST IS COMING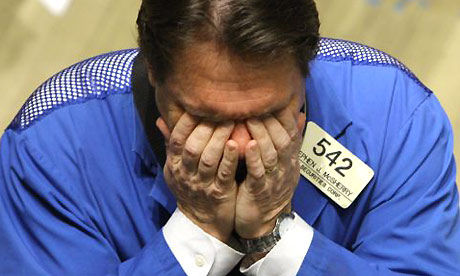 ........................................................................................................................................................................
Malachi Chapter 1
א מַשָּׂא דְבַר-יְהוָה, אֶל-יִשְׂרָאֵל, בְּיַד, מַלְאָכִי.
1 The burden of the word of the LORD to Israel by Malachi.
ב אָהַבְתִּי אֶתְכֶם אָמַר יְהוָה, וַאֲמַרְתֶּם בַּמָּה אֲהַבְתָּנוּ; הֲלוֹא-אָח עֵשָׂו לְיַעֲקֹב נְאֻם-יְהוָה, וָאֹהַב אֶת-יַעֲקֹב.
2 I have loved you, saith the LORD. Yet ye say: 'Wherein hast Thou loved us?' Was not Esau Jacob's brother? saith the LORD;

yet I loved Jacob;

ג וְאֶת-עֵשָׂו, שָׂנֵאתִי; וָאָשִׂים אֶת-הָרָיו שְׁמָמָה, וְאֶת-נַחֲלָתוֹ לְתַנּוֹת מִדְבָּר.
3

But Esau I hated,

and made his mountains a desolation, and gave his heritage to the jackals of the wilderness.
JERUSALEM = "THE CITY OF TRUTH" = THE CITY BELONGS TO G-D...
CALIFORNIA PRISONS - THE LAND OF FRUITS AND "NUTS"
HERE ARE SOME OF YOUR ILLEGAL ALIENS THAT OBAMA WANTS TO GIVE "AMNESTY" TO;
.......................................................................................................................................................................
There is another similar historical flag of a picture of a rattlesnake with those same
"Don't Tread on Me"
words for the Navy. It's called the "
Navy Jack."

But what do the words mean

"Don't Tread on Me"

? Basically the phrase is exactly what it means if you come upon a rattlesnake that's coiled and rattling.

It doesn't care what other animals do as long as they stay away. It minds its own business, and expects others just to mind their own too.

It's a symbol of independence.

Even from Jules Crittenden did he mention about blog that discusses a similar suggestion for Israelis to display a similar "Don't Tread on Me" flag written in Hebrew.
................................................................................................



RECOMMENDED FOR SURVIVAL

= GLOCK 19, 17, 26, STAY WITH 9mm CALIBER
. BULLET AND CARTRIDGE SELECTION MAKES THIS A TOP CHOICE ALONG WITH BEING ABLE TO BARTER 9mm FOR FOOD, WATER AND GAS, USING LESS EXPENSIVE FMJ AMMO ONLY FOR BARTER.
"IRS" AUDITING OBAMAS TOP DAWG
THE TOP 5 SMEAR MACHINES
Saturday, March 7, 2009
I am compelled by the Holy Spirit to send out an urgent message to all on our mailing list, and to friends and to bishops we have met all over the world.
AN EARTH-SHATTERING CALAMITY IS ABOUT TO HAPPEN. IT IS GOING TO BE SO FRIGHTENING, WE ARE ALL GOING TO TREMBLE - EVEN THE GODLIEST AMONG US.
For ten years I have been warning about a thousand fires coming to New York City. It will engulf the whole megaplex, including areas of New Jersey and Connecticut. Major cities all across America will experience riots and blazing fires—such as we saw in Watts, Los Angeles, years ago.
There will be riots and fires in cities worldwide. There will be looting—including Times Square, New York City. What we are experiencing now is not a recession, not even a depression. We are under God's wrath. In Psalm 11 it is written,
"If the foundations are destroyed, what can the righteous do?" (v. 3).
God is judging the raging sins of America and the nations. He is destroying the secular foundations.
The prophet Jeremiah pleaded with wicked Israel, "God is fashioning a calamity against you and devising a plan against you. Oh, turn back each of you from your evil way, and reform your ways and deeds. But they will say, It's hopeless! For we are going to follow our own plans, and each of us will act according to the stubbornness of his evil heart" (Jeremiah 18:11-12).
In Psalm 11:6, David warns, "Upon the wicked he will rain snares (coals of fire)…fire…burning wind…will be the portion of their cup." Why? David answered, "Because the Lord is righteous" (v. 7). This is a righteous judgment—just as in the judgments of Sodom and in Noah's generation.
WHAT SHALL THE RIGHTEOUS DO? WHAT ABOUT GOD'S PEOPLE?
First, I give you a practical word I received for my own direction. If possible lay in store a thirty-day supply of non-perishable food, toiletries and other essentials. In major cities, grocery stores are emptied in an hour at the sign of an impending disaster.
As for our spiritual reaction, we have but two options. This is outlined in Psalm 11. We "flee like a bird to a mountain." Or, as David says, "He fixed his eyes on the Lord on his throne in heaven—his eyes beholding, his eyelids testing the sons of men" (v. 4). "In the Lord I take refuge" (v. 1).
I will say to my soul: No need to run...no need to hide. This is God's righteous work. I will behold our Lord on his throne, with his eye of tender, loving kindness watching over every step I take—trusting that he will deliver his people even through floods, fires, calamities, tests, trials of all kinds.
Note: I do not know when these things will come to pass, but I know it is not far off. I have unburdened my soul to you. Do with the message as you choose.
God bless and keep you,
In Christ,
DAVID WILKERSON
MICHAEL SAVAGE - ECONOMICS
PETER SCHIFF - THE WORST IS YET TO COME


GERALD CELENTE - FEMA CAMPS - PUBLIC VIDEO
JEROME CORSI - OBAMA
Washington experts: Iran has fissile material for 50 nuclear bombs
DEBKAfile Special Report
March 8, 2009, 10:31 AM (GMT+02:00)
DEBKAfile's Washington sources quote experts familiar with the Iranian program maintain that it is far more advanced than the US and Israeli governments are willing to admit.
On March 4, the Washington Institute for Near East Policy published a paper with two important disclosures:
1. Iran has enough fissile material available for making up to 50 nuclear bombs. One of the paper's authors, William Schneider, undersecretary of state in the Reagan administration, who has made a study of Iran and its nuclear strategy, estimates that Tehran can go from low enriched uranium to weapons-grade uranium in a relative brief period of time, perhaps a year or so.
Israeli officials, while evading action to curb a nuclear-armed Iran, now go about suggesting that the Jewish state can live in its shadow. They discount the crude threats coming from Iran and argue that Israel is not really the Islamic Republic primary objective; its true goal is subjugation of the Sunni Muslim world.
Another part of this argument is that Tehran will not go into production of single bombs but wait until it can produce batches of 10-15 bombs or nuclear warheads.
This proposition is knocked over by the Washington think tank's report and the briefing delivered to the Israeli cabinet by Israel's intelligence chief, Maj. Gen. Amos Yadlin, Sunday, March 8.
Both confirm that Iran is no more than months away from being able to start a nuclear stockpile.
2. Schneider estimates that Israel will face the moment of no-return on action against a nuclear-armed Iran when Russia begins delivering sophisticated S-300 missile interceptors to Tehran. Not if but when, he says, although Israeli officials suggest the Russian-Iran deal has not been finalized.
The US experts' presumption is that these interceptors once installed will make it almost impossible for the US or Israel to attack Iran's nuclear sites.
************************************************************************************************

Mexican cartels infiltrate Houston
Recent arrests in a mistaken killing point to the perilous presence of gangs
By DANE SCHILLER
Copyright 2009 Houston Chronicle
March 7, 2009, 9:28PM
Family photo
Jose Perez was enjoying a night out with his wife, Norma, in 2006 when hitmen with a Mexican drug cartel mistook him for a rival trafficker and gunned him down.
The order was clear: Kill the guy in the Astros jersey.
But in a case of mistaken identity, Jose Perez ended up dead. The intended target — the Houston-based head of a Mexican drug cartel cell pumping millions of dollars of cocaine into the city — walked away.
Perez, 27, was just a working guy, out getting dinner late on a Friday with his wife and young children at Chilos, a seafood restaurant on the Gulf Freeway.
His murder and the assassination gone awry point to the perilous presence of Mexican organized crime and how cartel violence has seeped into the city.
Arrests came in December when police and federal agents got a break in the 2006 shooting as they charted the relationship and rivalries between at least five cartel cells operating in Houston. A rogue's gallery of about 100 names and mug shots taken at Texas jails and morgues offers a blueprint for Mexican organized crime.
************************************************************************************************
Can you survive economic crisis? Booming preparedness industry says Americans are stockpiling

---
Posted: March 08, 2009
8:15 pm Eastern


By Drew Zahn
© 2009 WorldNetDaily
To some, the term "survivalist" conjures images of camouflage-clad men stockpiling freeze-dried food in a mountain cabin, but in the current economic crisis, the people quietly preparing to survive catastrophe may just be your next-door neighbors.
In his column in last month's Financial Times, business and technology expert Ade McCormack writes, "The world is in crisis and with it the world of business. Many of us have two plans. Plan A involves President Barack Obama performing some economic magic. Plan B involves a revolver, a vegetable patch and a subscription to Survivalist Monthly."
And while McCormack was writing with a hint of jest, dissent over the president's trillion-dollar spending approach to the economy has left many average, everyday Americans considering something looking suspiciously like plan B.
Discover the shocking truth about the U.S. economy – and what you can and must do – with "Black Hole," the most recent edition of WND's acclaimed Whistleblower magazine!
Bill Heid of Survival Seeds, a company that sells "banks" of high-yielding vegetable seeds sealed for long-term storage and awaiting a family's need to grow its own food, says business is skyrocketing.
"It's been dramatic, nothing short of dramatic," Heid told WND. "The survivalist mentality used to be considered a fringe element, but now that economic times are such as they are, many more average, regular folks are adopting the same set of preparations."
Heid told WND what's most notable is that his boom in sales isn't coming from just the usual survivalists stocking up for a Y2K-like event.
"Ninety percent of our increase in business is new business," Heid said, "people who have never thought about surviving in case of emergency before."
The Christian Science Monitor reports that Lehman's, an Ohio retailer of home self-sufficiency equipment, has recorded huge sales increases from across the preparedness spectrum, from curious buyers to the stereotypical die-hards, according to Glenda Ervin, the company's vice president of marketing.
Vic Rantala, founder of Minnesota-based Safecastle, which markets home shelters for protection against disasters such as hurricanes and chemical attacks, told the Monitor his company's revenues have more than doubled since 2007.
"If most people think of a survivalist as an armed loner with extreme views – there are folks like that out there, but there are many more in America who are simply involved in preparing for down times, lean times or disaster," Rantala, a former U.S. intelligence analyst, told the Monitor. "It's logical. It's common sense."
Seattle Times Columnist Danny Westneat interviewed Claire Anderson, a 68-year-old woman who was prompted by Obama's call for community organization to host a meeting of neighbors in her apartment. Their discussion of the slumping economy and fears of what lies ahead harkened back to the leaner days of her World War II childhood.
"I think we're headed back to the days of the victory gardens," Anderson said. "We have to figure out how to help ourselves. We can't be isolated. We can't sit around and wait for the government."

************************************************************************************************
Wikipedia scrubs Obama eligibility Mention of citizenship issues deleted in minutes, 'offending' users banned

---
Posted: March 08, 2009
6:54 pm Eastern


By Aaron Klein
© 2009 WorldNetDaily
From Wikipedia's Barack Obama page
Wikipedia, the online "free encyclopedia" mega-site written and edited entirely by its users, has been deleting within minutes any mention of eligibility issues surrounding Barack Obama's presidency, with administrators kicking off anyone who writes about the subject, WND has learned.
A perusal through Obama's current Wikipedia entry finds a heavily guarded, mostly glowing biography about the U.S. president. Some of Obama's most controversial past affiliations, including with Rev. Jeremiah Wright and former Weathermen terrorist Bill Ayers, are not once mentioned, even though those associations received much news media attention and served as dominant themes during the presidential elections last year.
Also completely lacking is any mention of the well-publicized concerns surrounding Obama's eligibility to serve as commander-in-chief.
Where's the proof Barack Obama was born in the U.S. or that he fulfills the "natural-born American" clause in the Constitution? If you still want to see it, join more than 300,000 others and sign up now!
Indeed, multiple times, Wikipedia users who wrote about the eligibility issues had their entries deleted almost immediately and were banned from re-posting any material on the website for three days.
In one example, Wikipedia user "Jerusalem21" added the following to Obama's page:
"There have been some doubts about whether Obama was born in the U.S. after the politician refused to release to the public a carbon copy of his birth certificate and amid claims from his relatives he may have been born in Kenya. Numerous lawsuits have been filed petitioning Obama to release his birth certificate, but most suits have been thrown out by the courts."
As is required on the online encyclopedia, that entry was backed up by third-party media articles, citing the Chicago Tribune and WorldNetDaily.com
The entry was posted on Feb. 24, at 6:16 p.m. EST. Just three minutes later, the entry was removed by a Wikipedia administrator, claiming the posting violated the websites rules against "fringe" material.

************************************************************************************************
Britain Adopts Dangerous New Economic Policy
March 9, 2009 | From theTrumpet.com
The UK is getting desperate.
The Bank of England plans to create ₤75 billion (us$106 billion) out of thin air. The bank announced on Thursday that it will cut interest rates to 0.5 percent and buy ₤75 billion of government and corporate debt using newly created money. Chancellor of the Exchequer Alistair Darling has authorized the Bank of England to create up to ₤150 billion.
The Bank of England is moving into uncharted territory. This technique of creating money, known as quantitative easing, was implemented from 2001 to 2006 in Japan under different circumstances.
Seventy-five billion pounds is about 5.4 percent of Britain's gross domestic product—a proportionately greater amount than even the U.S. Federal Reserve's 4.7 percent of gdp that it has pumped into the American system.
George Osborne, the shadow chancellor, called the move "a leap in the dark."

************************************************************************************************