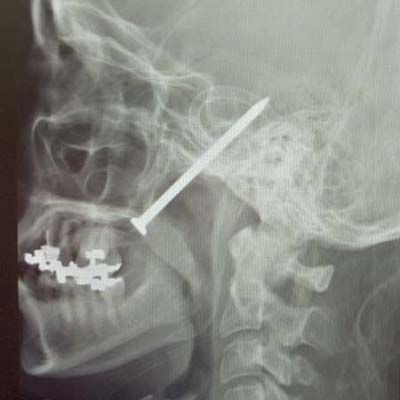 DEATH BY NAIL GUN
***********************************************************************************************
16 YEAR OLD CHINESE BOY SURVIVED THIS ARROW
************************************************************************************************
UPDATED TUESDAY - JUNE 30, 2009
Israeli Army amasses troops, military hardware along Lebanese border


Israel Prepares F-15 Jets for Long Range Attack
ACTIONS BY "T" VIDEO DVD LIST
Contact Charles Jacobson via email =
actionsbytvideos@yahoo.com
1. THE TRUTH ABOUT BUYING A HANDGUN
2. HOW TO BUY USED HANDGUNS
3. HOW TO CLEAN YOUR HANDGUNS
4. DISASSEMBLY AND REASSEMBLY OF COLT 45 SERIES 80 – 1911
5. DISASSEMBLY AND REASSEMBLY OF S&W REVOLVERS
6. DISASSEMBLY AND REASSEMBLY OF SIG SAUER FOR CLEANING
7. DISASSEMBLY AND REASSEMLBY OF COLT 45 SERIES 70 – 1911
8. PREPARING A HANDGUN FOR STREET CARRY
9. HOW TO IMPROVE YOUR PISTOL AND REVOLVER
10. DISASSEMBLY AND REASSEMBLY OF GLOCK PISTOLS/CLEANING
11. HANDGUNS FOR WOMEN
12. TRUTH ABOUT STAINLESS STEEL, TITANIUN & PORTED GUNS
13. HANDGUN SIGHTS – EVERYTHING YOU WANTED TO KNOW
14. THE TRUTH ABOUT AFTER MARKET PARTS AND ACCESSORIES
15. HANDGUNS AND ACCESSORIES THAT I WOULD NOT BUY
16. HOW TO SELECT A GUNSMITH AND PLATER
17. HANDGUN SPRINGS – EVERYTHING YOU WANTED TO KNOW
18. CARRYING A CONCEALED HANDGUN – TRUTH AND REALITY
19. SMALL HANDGUNS, HOLSTERS & AMMO FOR STREET CARRY
20. HANDGUN AMMUNITION – WHAT YOU NEED TO KNOW
21. SELECTING RELOADING EQUIPMENT
22. SELECTING RELOADING COMPONENTS
23. SELECTING THE BEST HAND TOOLS FOR THE GUNSMITH
************************************************************************************************
CHAIM BEN PESACH - PUBLIC VIDEO
ADVICE FROM "ARNOLD"
KALEEFORNIA IS IN GOOD HANDS
"ARNOLD" IS IN CHARGE OF KALIFEEFORNIA
THE "UK" IS FINISHED
THE "GENERAL" SURVIVAL BRIEFING - PART 1
................................................................................................
PREPARING FOR CIVIL UNREST IN AMERICA
................................................................................................

Sharia Courts Rule Against British Law
June 30, 2009 | From theTrumpet.com
At least 85 sharia courts now operate within Britain.


.......................................................................................................................................

| | | | |
| --- | --- | --- | --- |
| US ATTEMPTS TO RE-DEFINE SWITCHBLADES – WOULD MAKE MOST POCKET KNIVES ILLEGAL | | | |
Breaking News: Knife Rights Comments to Customs' Proposal Submitted
Click here for more information and to read our submitted Comments Letter.
CBP's denial of an extension seems to be a clear indication that they do not intend to act in a fair and reasonable manner on this issue and have already made their decision to go ahead. That means we have to set the stage for the next act, which will likely be conducted both in court and in Congress. The battle is far from over, your comments will play a role in both efforts.
U.S. Customs & Border Protection (CBP) has proposed revoking earlier rulings that assisted opening knives are not switchblades. The proposed new rule would not only outlaw assisted opening knives, its broad definition of a switchblade would also include one-handed opening knives and could be easily interpreted to cover most other pocket knives, even simple old-fashioned slip-joints.
Note that CBP's interpretation of the Federal Switchblade Act forms the basis for national, state and even local law and judicial rulings in many cases. This ruling by CBP is NOT limited to just imports. This WILL affect virtually everyone who carries a pocket knife, no matter the type!
Download the 63 page CBP document and read it for yourself.
Knife Rights has sent a letter to CBP requesting an extension to the ridiculously short 30-day comment period. We need your help to make an impression on CBP. They figured that they could slip this by everyone with little notice. We need to let CBP know that they are not going to get away with it; that we noticed and we are not happy and that we will not stand by while they take away our pocket knives.
We are in for the fight of our lives. We need you to write CBP NOW!
Click here for a Model Letter you can send to CBP.
However, the reality is that CBP isn't required to listen to our demands, but they do have to answer to Congress. After you send a letter to CBP, giving them notice they are not going to sneak this by us, the next step is to inundate Congress with emails and letters.
If you want to be free to carry your pocket knives in the future, you need to write your Senators and Representative TODAY!
Click here for a Model Letter you can send to Members of Congress.
We have also prepared a Communicating with Congress page that includes tips to maximize the effect of your letters. This page was developed after consultation with experts who understand exactly how to get your message across to Members of Congress. We have also included easy links to find your Representatives, if you don't know who they are or the best way to reach them. How much of an impact your communication has can be significantly impacted by how and what you write. Our aim is to help maximize your impact so your Members of Congress actually listen and do something. PLEASE, take a few minutes to review our Communicating with Congress page BEFORE you act.
Knife Rights was formed three years ago because we knew it was only a matter of time before something like this would happen that would threaten to take away our right to own and carry our knives. Well, that time is now and we're working to help keep our essential tools and essential rights. We cannot do it without your help. Knife Rights is only as powerful as the forces we can bring to bear. You are the only truly effective weapon we have. Policitcans only listen to voters. NOW IS YOUR TIME TO ACT!
Because you are sending a hard copy letter and emails via Members' web forms, we won't know you did it unless you let us know. It is critical that we be able to know how many have responded, so please click here to send us an email (customs@Kniferights.org) to let us know you've sent the letter and emails.
Copyright 2009, Knife Rights, Inc.
This may be reproduced. It may not be reproduced for commercial purposes.
.......................................................................................................................................
Sweet Justice
Bernie Madoff
was just sentenced to 150 years in prison.
Couldn't happen to a nicer guy.
.........................................................................................................................................................................
GERALD CELENTE - OBAMAGEDDON - PUBLIC VIDEO
GANGSTER GOVERNMENT IN AMERICA - PUBLIC VIDEO
RIOTING IN FRANCE
MICHAEL SAVAGE - PUBLIC AUDIO
THIS MORON IS IN CHARGE OF KALEEFORNIA
ARNOLD NEEDS HELP
ARNOLD IS ONE SICK PUPPIE
Hawaiian newspaper
to WND: Drop dead
Hawaii paper turns down ad probing Obama's birth
Star-Bulletin publisher rejects full-page, full-rate display 'because it is political'
---
Posted: June 28, 2009

9:45 pm Eastern


© 2009 WorldNetDaily
WASHINGTON – In the latest effort to obtain information that could settle the controversy over Barack Obama's eligibility for office
as a "natural born citizen," WND Editor and
Chief
Executive
Officer
Joseph Farah attempted to buy a full-page ad in a Honolulu daily newspaper soliciting assistance in finding documentary evidence of his birth in the city Aug. 4, 1961, as he claims in his autobiography.
Despite offering the full rate of $7,168.50 plus taxes for a full-page, color ad on page 2 of the news section of the Honolulu Star-Bulletin next Monday, the copy was rejected – the latest turndown by a growing list of media companies that won't touch the birth certificate issue even for money.
"I spoke to my publisher and unfortunately we cannot accept the ad because it is political," explained Cyd Kamakea, classified advertising manager
.
The ad copy was headlined: "Help Wanted: Information leading to the truth about Barack Obama's birth."
The entire contents of the ad is reprinted below:
WorldNetDaily seeks information, both material and anecdotal, which will reveal the entire truth regarding the circumstances of the birth of President Barack Hussein Obama.
1. We seek the original Hawaiian "vault record of birth" for Obama, if one exists;

2. We seek the certificate number of the original "vault record of birth" for Obama, if one exists;

3. We seek original or certified copies of older vault indexes, for the year 1961, where the name Obama may or may not appear on the vault list or records index;

4. We seek evidence and testimony from anyone who may have witnessed Obama's birth – in Hawaii or elsewhere;

5. We seek Hawaiian hospital records and testimony from attending doctors, nurses and others who may have actual knowledge and evidence regarding Obama, which will either prove or disprove a Hawaiian birth;

6. We seek to know if the Hawaiian state records show a Kenyan or other foreign record of birth for Obama and was perhaps reregistered in Hawaii, which was previously legal in Hawaii for limited purposes in 1961;

7. We especially seek the testimony of genealogists, archivists, records clerks, investigators, and others who may have unique knowledge of the original Obama birth records from 1961;

8. We seek unimpeachable physical evidence and testimony, and you will be asked to submit to interviews and a polygraph test. Your identity will not be revealed to the press without your permission;

9. We will negotiate a fair reward for your information, evidence and testimony.
Please contact Joseph Farah, editor and chief executive officer of WorldNetDaily, by emailing him – jfarah@wnd.com
"As a former newspaper top executive myself, it is simply astonishing to me how cowardly and closed-minded my former industry has become," said Farah. "Not only will none of these so-called news organizations cover a matter of the utmost public interest, but they will not even allow someone to advertise for help in an independent investigation. The once-great watchdog American press has indeed become the pathetic lapdog American press – subservient to the whims and wishes of those in power."
Farah has waged a fierce campaign to raise the visibility of the eligibility issue since late last year – when it was all but fading from the nation's view.
He began by launching an ongoing petition campaign, that has now gathered nearly 400,000 electronic "signatures" and which, at various times was used to persuade members of the electoral college of the controversy and later handed to the Chief Justice of the U.S. Supreme Court John Roberts.
More recently, Farah initiated a nationwide billboard campaign employing the slogan, "Where's the birth certificate?" That campaign has raised nearly $100,000 in the last two months and resulted in the purchase of about a half-dozen billboards so far around the country.
"Where's The Birth Certificate?" billboard in Pennsylvania
While there are still hundreds of thousands of billboards across America available for expansion of this campaign, three of the largest media companies refused to accept the ads.
In addition, Farah has made available to the general public magnetized bumper stickers for display on automobiles
and other metallic surfaces, as well as
yard signs and tea party rally signs that mimic the billboard campaign.
More recently, Farah issued a $10,000 challenge for anyone who can provide evidence of being present at the birth of Barack Obama and has called on others to donate to the cause to make it "irresistible" to those who were present – wherever that birth took place just 48 years ago.
"The reason we are resorting to what may strike some as unorthodox efforts for a news agency is because we have been stymied in our ability to get answers from Barack Obama," said Farah. "Obama, who has pledged to run the most open and transparent administration in history has, in fact, slammed the door shut on matters pertaining to his own constitutional eligibility. I don't believe that attitude will change until the American people force it to change. Barack Obama could make this issue go away today by releasing his long-form birth certificate – the one that is signed by an attending physician or other official and names the hospital in which the birth took place."
Farah, a lifelong journalist who directed the newsrooms of major-metropolitan dailies before founding WND, said he is repulsed by the way the rest of the news media, not to mention the opposition party in Washington, have accepted at face value Obama's unsubstantiated and undocumented claims to being a "natural born citizen."
"There is simply no evidence to prove Obama is constitutionally eligible to serve," said Farah. "It is so disturbing that Americans would just give him a pass on the simple constitutional test. In six months in office, he has more than demonstrated complete contempt for the constitutional limits on federal power. It's no wonder. He got away with becoming president without satisfying the explicit and simple demands of constitutional eligibility. What should we expect him to do in office? Should we expect him suddenly to start applying a constitutional test to policy?"
Despite the almost complete lack of reporting on the issue by the press, a scientific survey of the American public conducted by WND this month showed more than 49 percent believe Obama should release his birth certificate and other documents, such as college records, or said they were "troubled" by his refusal to do so.
If you are a member of the media and would like to interview Joseph Farah about this campaign or this issue, e-mail WND.
*************************************************************************************************
Obama tells Jews to stop building homes – in Israel!
'The positions of the U.S. and Palestinian Authority are closer than ever'
---
Posted: June 28, 2009
7:07 pm Eastern


By Aaron Klein

© 2009 WorldNetDaily
Jerusalem
JERUSALEM – The Obama administration told the Palestinian Authority the "golden era" of Israeli construction in sections of Jerusalem and the strategic West Bank will soon come to an end, a top PA negotiator told WND.
"The U.S. assured us that for the first time since 1967, we are going into a period where there will not be allowed a single construction effort on the part of the Israelis in the settlements, including in Gush Etzion, Maale Adumum and eastern Jerusalem," said the negotiator, speaking from Ramallah on condition his name be withheld.
Maale Adumim is located in eastern Jerusalem. Israel reunited the eastern and western sections of Jerusalem and the West Bank during the 1967 Six Day War. Eastern Jerusalem, claimed by the PA for a future state, includes the Temple Mount.
The negotiator told WND the positions of the PA and U.S. regarding ongoing Jewish construction in the West Bank and eastern Jerusalem "are closer than ever."
"The U.S. used to differentiate between natural grown and adding new communities. Not anymore. No construction will be allowed, not even natural growth," the PA negotiator said.
"Natural growth" means adding additional housing to existing communities to accommodate the needs of a growing population.

*************************************************************************************************

Washington: Weakened Ahmadinejad may seek military adventures
DEBKAfile Special Analysis
June 29, 2009, 11:07 AM (GMT+02:00)
Washington seeks to divide them.
Two fundamental conceptions underpinning the Obama administration's Middle East policies have been swept away by the upheaval in Iran. DEBKAfile's Washington sources report that direct or even multilateral nuclear negotiations with Iran have vanished in the distance - for one, and the premise that progress on the Palestinian peace front is the key to a breakthrough with Iran is another.
The turmoil in Tehran has demonstrated that any connection between internal unrest in the Islamic republic, its nuclear program and the Israel-Palestinian issue is contrived.
Still, White House officials, who refuse to publicly admit they were wrong, continue to pressure the Netanyahu government to freeze all settlement construction as though it were relevant to their Middle East woes. Now, they have decided that Binyamin Netanyahu is weak enough to be squeezed into surrendering and the Obama administration can then claim a big Middle East success.
Sunday, June 28, a number of Washington observers familiar with White House thinking cited insiders as speculating that should Netanyahu venture to defy the US, his coalition government is too fragile to survive a breach with Israel's foremost ally, he would be pushed out and succeeded by defense minster Ehud Barak.
The main Israeli settlement concentrations cover no more than 1.7 percent of West Bank territory and the marginal expansion for growth would add less than one percent. Clearly, the controversy is more political than territorial. Some circles in Jerusalem suspect the Obama administration has blown it up more to undermine Netanyahu than to placate the Arabs.
DEBKAfile's sources note that these evaluations about the durability of the Netanyahu government were released by Washington ahead of Barak's arrival Monday, June 29, to iron out the settlement controversy between the Israeli and US governments. They were meant to signal Netanyahu that any understanding his defense minister might achieve with the Americans would not serve the prime minister but be fodder for his political rivals.
This approach was designed mainly by the White House chief of staff Rahm Emanuel who now arguments that the failure to corner Netanyahu on the settlement issue will dent the Obama administration credibility in Arab eyes.
In other words, the Iranian scarecrow is now replaced by an Arab bogyman for brandishing in front of Netanyahu.
Washington and Jerusalem share the fear that Iranian president Mahmoud Ahmadinejad's humiliation and diminished status at home may well goad him into embarking on a dangerous military adventure against Israel or US targets in Afghanistan or Iraq. In Jerusalem it makes sense for the United Stats to strengthen the informal Saudi-Egyptian-Israeli connection as a bulwark against wild Iranian ideas. This alliance, the brainchild of Barak, has been enthusiastically embraced by the prime minister. They are entirely of one mind on this policy. Therefore, the White House's presumption that the defense minister can be turned against Netanyahu makes no sense in Israeli terms.
From Jerusalem, it looks suspiciously as though the Obama White House anti-settlement drive has become a two-pronged campaign to undercut Netanyahu's position at home and assemble a new set of principles – or at least a strategy - to replace the president's engagement policy which Ahmadinejad blocked in his weekend slanging match with the US president.
*************************************************************************************************