UPDATED THURSDAY - MARCH 19, 2009
LOS ANGELES RIOTS - PUBLIC VIDEO
GERMANY 1933
- HITLER YOUTH CORP.

- PUBLIC VIDEO
REMEMBER 1933
By: David Horowitz and Ben Johnson
We won the war in Iraq. It's time to look at those who tried to lose it.
More>
......................................................................................................................................................................
Israeli army ordered to devise Iran war
Tue, 17 Mar 2009 18:58:29 GMT
Lt. Gen. Ashkenazi says he is tasked with drawing up contingency plans as Israel ups its war rhetoric against Iran over the country's nuclear program.
As Israeli talks of war on Iran gain momentum, Israel's military Chief of Staff says the army must prepare for a military aggression.

In a meeting with top US diplomats on Monday, Lt. Gen. Gabi Ashkenazi said Israel could not live with a nuclear Iran and that an Israeli military strike was a "serious" option in retarding the country's progress.
.........................................................................................................................................................................
MARCH 19, 2009, 3:00 A.M. ET
Guantanamo Detainees May Be Released in U.S.
........................................................................................................................................................................
EDITORIAL: Guns on a plane
Obama secretly ends program that let pilots carry guns
........................................................................................................................................................................
LEVITICUS CHAPTER 26 - VERSE 19, 20

יט וְשָׁבַרְתִּי, אֶת-גְּאוֹן עֻזְּכֶם; וְנָתַתִּי אֶת-שְׁמֵיכֶם כַּבַּרְזֶל, וְאֶת-אַרְצְכֶם כַּנְּחֻשָׁה.
19 And I will break the pride of your power; and

I will make your heaven as iron, and your earth as brass.

כ וְתַם לָרִיק, כֹּחֲכֶם; וְלֹא-תִתֵּן אַרְצְכֶם, אֶת-יְבוּלָהּ, וְעֵץ הָאָרֶץ, לֹא יִתֵּן פִּרְיוֹ.
20 And your strength shall be spent in vain; for your land shall not yield her produce, neither shall the trees of the land yield their fruit.
(Heaven as IRON = "NO RAIN") - (Earth as BRASS = "NOTHING WILL GROW")
FATHER DON'T CRY
JIM ROGERS - WATER RATIONING
GERALD CELENTE - ECONOMIC
PREDICTIONS
GLENN BECK - JIM ROGERS - ECONOMICS
MICHAEL SAVAGE - WHY AMERICA
IS FINISHED
Blackwater still works for U.S. in Iraq
WASHINGTON, Mar 17, 2009 (UPI via COMTEX) -- The U.S. State Department re-signed the security firm formerly known as Blackwater despite Iraq saying it didn't want the company there, records show.


The State Department said $22.2 million deal signed with Blackwater, since renamed Xe, in February was a contract modification concerning aviation work, The Washington Times first reported. The contract expires in September, months after its contract for work in Baghdad was to have run out.


One observer said the deal raises questions about why the United States would want to pay a contractor for work in Iraq if the government won't approve its operating license.


"Why would you continue to use Blackwater when the Iraqi government has banned the highly controversial company and there are other choices?" asked Melanie Sloan, executive director of the non-partisan Citizens for Responsibility and Ethics in Washington.


The private security firm has been heavily criticized, particularly for a 2007 incident that left 14 Iraqi civilians dead and six former guards facing manslaughter charges.


Xe spokeswoman Anne Tyrell declined to comment to the Times on the company's work in Iraq or the contract modification. She said the company was aware that the State Department indicated it didn't plan to renew its contracts in Iraq but that Xe officials hadn't received specific information about leaving the country.


The Iraqi Embassy in Washington didn't comment on the contract, the Times said.
 

www.upi.com


Copyright 2009 by United Press International

........................................................................................................................................................................




LAURA INGRAM - MEGHAN McCAIN
NANCY PELOSI - FOX NEWS -
ILLEGAL IMMIGRANTS
GLENN BECK - NRA - GUNS
Judge ripped for using blog eligibility hearsay
Obama case

lawyer says he's entitled to birth certificate discovery hearing
---
Posted: March 19, 2009
12:40 am Eastern


By Bob Unruh
© 2009 WorldNetDaily
James Robertson
A lawyer threatened by a federal judge with sanctions for filing one of the myriad legal challenges to President Obama's eligibility has responded by criticizing the judge for relying on "hearsay" blog information for his decision and suggests he should be given a hearing that could include discovery of the president's original birth certificate.
WND reported earlier when Judge James Robertson dismissed a lawsuit filed by John D. Hemenway on behalf of Gregory S. Hollister, a retired military officer, who is subject to being recalled to duty and therefore would need to know the legitimacy of any order coming from Obama.
In his statement dismissing the case, Robertson ridiculed the complaint, which never had a court hearing, ruling that the eligibility issues had been "blogged, texted, twittered and otherwise massaged."
Hollister is represented by Philadelphia lawyer Philip Berg, who has brought several motions on the eligibility dispute to the U.S. Supreme Court that have been ignored. Hemenway acted as local counsel in filing the action on behalf of Hollister.
Robertson wrote: "The plaintiff says that he is a retired Air Force colonel who continues to owe fealty to his Commander-in-Chief (because he might possibly be recalled to duty) and who is tortured by uncertainty as to whether he would have to obey orders from Barack Obama because it has not been proven – to the colonel's satisfaction – that Mr. Obama is a native-born American citizen, qualified under the Constitution to be president.
"The issue of the president's citizenship was raised, vetted, blogged, texted, twittered, and otherwise massaged by America's vigilant citizenry during Mr. Obama's two-year-campaign for the presidency, but this plaintiff wants it resolved by a court," Robertson wrote.
Wrong on most counts, Hemenway contends.

************************************************************************************************

ISAIAH CHAPTER 13

| | |
| --- | --- |
| ט הִנֵּה יוֹם-יְהוָה בָּא, אַכְזָרִי וְעֶבְרָה וַחֲרוֹן אָף--לָשׂוּם הָאָרֶץ לְשַׁמָּה, וְחַטָּאֶיהָ יַשְׁמִיד מִמֶּנָּה. | 9 Behold, the day of the LORD cometh, cruel, and full of wrath and fierce anger; to make the earth a desolation, and to destroy the sinners thereof out of it, |
| י כִּי-כוֹכְבֵי הַשָּׁמַיִם וּכְסִילֵיהֶם, לֹא יָהֵלּוּ אוֹרָם; חָשַׁךְ הַשֶּׁמֶשׁ בְּצֵאתוֹ, וְיָרֵחַ לֹא-יַגִּיהַּ אוֹרוֹ. | 10 For the stars of heaven and the constellations thereof shall not give their light; the sun shall be darkened in his going forth, and the moon shall not cause her light to shine. |
| יא וּפָקַדְתִּי עַל-תֵּבֵל רָעָה, וְעַל-רְשָׁעִים עֲו‍ֹנָם; וְהִשְׁבַּתִּי גְּאוֹן זֵדִים, וְגַאֲוַת עָרִיצִים אַשְׁפִּיל. | 11 And I will visit upon the world their evil, and upon the wicked their iniquity; and I will cause the arrogancy of the proud to cease, and will lay low the haughtiness of the tyrants. |
HERE IS THE CHANGE YOU VOTED FOR:



UPDATED - Wed. 5:00 pm C.T.



Feds undercut ammo supply
But Defense

policy reversed

after intervention by 2 Montana senators
Feds undercut civilian supply of ammunition
Policy leaves manufacturers without brass for cartridges
---
Posted: March 17, 2009
9:00 pm Eastern
By Drew Zahn
© 2009 WorldNetDaily
Fired

brass

shell casings
A recent government policy change has taken a bite out of the nation's already stressed ammunition supply, leaving arms dealers scrambling to find ammo for private gun owners.
Georgia Arms is a company that for the last 15 years has been purchasing fired brass shell casings from the Department of Defense and private government surplus liquidators. The military collects the discarded casings from fired rounds, then sells them through liquidators to companies like Georgia Arms that remanufacture the casings into ammunition for the law enforcement and civilian gun owner communities.
But earlier this month, Georgia Arms received a canceled order, informed by its supplier that the government now requires fired brass casings be mutilated, in other words, destroyed to a scrap metal state.
The policy change, handed down from the Department of Defense through the Defense Logistics Agency, cuts a supply leg out from underneath ammunition manufacturers.
Learn here why it's your right -- and duty -- to be armed.
The policy has compelled Georgia Arms, for example, to cancel all sales of .223 and .308 ammunition, rounds used, respectively, in semi-automatic and deer hunting rifles, until further notice. Sharch Manufacturing, Inc. has announced the same cancellation of its .223 and .308 brass reloading components.
"They just reclassified brass to allow destruction of it, based on what?" Georgia Arms owner Larry Haynie asked WND. "We've been 'going green' for the last dozen years, and brass is one of the most recyclable materials out there. A cartridge case can be used over and over again. And now we're going to destroy it based on what? We don't want the civilian public to have it? It's a government injustice."

************************************************************************************
Gun Advocates Ready for Battle on Federal Assault Weapons Ban
Attorney General Eric Holder is using the drug violence in Mexico to "confuse and mislead" Americans in an attempt to reinstate the expired federal assault weapons ban, gun advocates say.
************************************************************************************************
PETER SCHIFF - MARCH 17, 2009
SHOPPING IN "TEXAS"
GLENN BECK - BILL O'REILLY
GLENN BECK - MARCH 17, 2009
MICHAEL SAVAGE - YOU MUST HEAR THIS

Webster's dictionary redefines 'marriage'
Now includes references to same-sex relationships
---
Posted: March 17, 2009
8:39 pm Eastern


By Bob Unruh
© 2009 WorldNetDaily
One of the nation's most prominent dictionary companies has resolved the argument over whether the term "marriage" should apply to same-sex duos or be reserved for the institution that has held families together for millennia: by simply writing a new definition.
"I was shocked to see that Merriam-Webster changed their definition of the word 'marriage,' a word which has referred exclusively to a contract between a man and a woman for centuries. It has now added same sex," YouTube user Eric B. noted to WND.
"The 1992 Webster's Dictionary does not mention same sex at all," he wrote.
He created a YouTube video illustrating his concerns, which has been embedded here:
The new definition references "marriage" as the state of being united to a person of the opposite sex as husband or wife. But the definition also includes "the state of being united to a person of the same sex in a relationship like that of a traditional marriage."

************************************************************************************************
MICHAEL SAVAGE - PREDICTION
MESSAGE FROM AN "IRAQI VOTER"
Saudis create anti-Israel Palestinian "militia" in Gaza to combat Hamas
DEBKAfile Exclusive Report
March 18, 2009, 9:25 AM (GMT+02:00)
New pro-Saudi terror militia in South Lebanon
DEBKAfile's military sources disclose that Saudi intelligence services are deep in recruitment for a new radical Islamist terrorist militia in the southern Gaza Strip towns of Deir al Balakh, Khan Younes and Rafah, with Egyptian blessing. More than 1,000 Palestinians have joined up in two weeks, poached from the extreme Hamas fringes and the Salafi sects.
Recruiters promise greater militancy against Israel than Hamas and Jihad Islami combined.
The new Gaza group is intended to complement the pro-Saudi organization established in southern Lebanon in January, part of a new Riyadh project to establish a chain of Islamist, Taliban-style fighting cadres under Saudi control for combating the pro-Iranian and al Qaeda terrorist organizations strung across the Middle East.
The Saudis are pumping into southern Gaza weapons, cash and dozens of military instructors for a strong infrastructure. This flow could not have taken place through Egyptian territory without Cairo's knowledge and approval.
DEBKAfile's Middle East sources disclose the hand behind this grand design is the Saudi intelligence chief Prince Muqrin Abdul Aziz. He has used Hamas leaders' absence and their preoccupation in Cairo with prisoner swap negotiations with Israel and Palestinian unity talks to lay the groundwork for the pro-Saudi Palestinian terror group in the Gaza Strip.
The organization up and running in S. Lebanon, dubbed the Arab Islamic Resistance Organization, soon challenged pro-Iranian Hizballah's domination of South Lebanon by becoming the first non-Hizballah element ever to stage a comprehensive "war game" close to the Israeli border without Iran's proxy interfering.
Exercises included chemical warfare drill, a sign that the Saudis are preparing to arm their new terrorist network with sophisticated means of war.
************************************************************************************************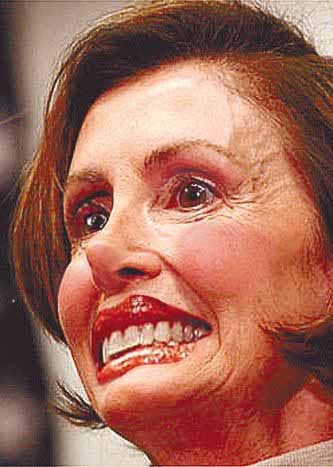 Pelosi Tells Illegal Immigrants That Work Site Raids are Un-American
The speaker of the House told a group of both legal and illegal immigrants recently that enforcement of immigration laws in the United States is "un-American."
************************************************************************************************
By: Jamie Glazov
Chavez's recruits Cubans and Islamofascists from Iran for his personal militia. More>



..............................................................................................



The Drug Cartels Are on Our Payroll
March 18, 2009 | From theTrumpet.com


Amid gloomy economic news, America's financial stimulus efforts are succeeding wildly in a couple of areas. One is the funding of violent mafias that are taking over Mexico one town at a time. Another is the subsidy of a criminal underworld in over 200 U.S. cities.
The stimulus money isn't coming from Washington, but from the pockets of drug users all over the country. About 20 million Americans—8 percent of the population—use illegal drugs, the government estimates. The dollars they pay to maintain their self-destructive habits—what the United Nations believes is $142 billion a year—are funding a world of evil.
Drug users say, My decisions are my business—I'm not hurting anyone else.
It's a lie. Their decisions are facilitating a massive arms trade, paying for kidnappings and murders, enabling the traffic of human beings, and threatening the Mexican government. Now these evils are spilling back over into the States. Americans are getting kidnapped and killed in violence paid for by these self-indulgent American drug users.
Tragic irony. Our own crimes are coming back to bite us.
Mexican cartels are entrenched in at least 230 American cities, the National Drug Intelligence Center says. For years they have subcontracted the distribution of drugs to local U.S. street gangs. But as the cartels have grown in power thanks to the enormous and increasing cash flow generated by their booming business, they have assumed greater control of the process. By cutting out the middlemen, they now rake in higher profits, which enable them to expand their filthy business even more.
They're not only infiltrating border cities: They are digging in as far north as Wisconsin and Alaska. And they're bringing their criminal culture with them.
Phoenix now has the second-highest kidnapping rate of any city in the world—after Mexico City. Last year it averaged one drug-related abduction per day, and experts estimate only half are reported. Police there are becoming personally acquainted with the cartels' signature ruthlessness: smashing the fingers of victims, pistol whipping, arbitrary killing to instill fear. "The tactics are moving north," says Phoenix Assistant Police Chief Andy Anderson. Last month officials found a body of a man who had been tortured, shot, completely enveloped in duct tape and dumped. Gangs sometimes dress as Phoenix police or an American swat team as they raid homes. This is 185 miles from the Mexican border.
Atlanta, 1,500 miles from the border, has become the cartels' top drug distribution center for the eastern U.S., according to a USA Today report last week. At the same time, this city is seeing a spike in assaults, abductions and executions. "The violence follows the drugs," says fbi agent David Cuthbertson.
In Birmingham, Alabama, the bodies of five Mexican men—bound, gagged and electrocuted in what officials think was a drug-related hit—were found. Greenville, Tennessee, has indicted dozens of cartel-tied drug dealers. North Carolina has cartel cells that reach south of the border. Authorities in San Diego and Houston are convinced some murders there were assassinations ordered by drug traffickers from Mexico.
These are the types of projects the cash-rich cartels like to spend their money on. Another favorite project: incredibly sophisticated smuggling operations. The gangsters are building cross-border tunnels nine stories underground. They are purchasing semi-submersible vessels that can evade radar and travel at 20 knots. A recent year-long multi-agency investigation in Arizona exposed one organization bringing a billion dollars' worth of marijuana into the U.S. via heavy duty camouflaged trucks; drivers wore night vision goggles so they could drive in the dark through the desert without headlights; scouts lived in the mountains for weeks on end radioing directives and warnings to drivers.
The cartels also use these routes to smuggle people. They sell their services to various groups for exorbitant fees, who turn around and extort money from the illegals traveling into the States. At hundreds of drop houses in American cities, immigrants are mistreated, tortured, raped—so criminals can extract ransoms from their families. "This is modern-day slavery of terrible proportions," says Arizona state Sen. Jonathan Paton. Slavery made possible, again, by dollars from drug users.
Last week I talked about how one of America's biggest foreign-policy challenges—a near-nuclear-armed Iran—is largely a problem of its own making. The same is painfully true of the spread into American cities of drug-related crime. Mexico's narcothugs would all be out of business if they didn't live next door to the world's most voracious drug-consuming market.
This is a "made in America" problem.
That reality is grimly punctuated by the fact that the Mexican gangsters are waging their war almost exclusively with American weapons. Flush with American drug cash, they buy their handguns, shotguns, machine guns, grenade launchers and ammunition by the truckload from unscrupulous American dealers. The Bureau of Alcohol, Tobacco and Firearms says that 90 percent of the guns confiscated from Mexican cartels come from the States. Texas is their top supplier. These weapons dealers know who they're selling to. They're shamefully aware that those bullets may well end up in the body of some Mexican policeman—or a fellow American citizen.
Thus, as we witness the curses of increased and increasingly ruthless violence, of rising gangsterism, of Mexico's nightmarish drug culture seeping into America's cities, we should remind ourselves: Our own people are not only funding it but even arming it.
That is the real problem. Unless that changes, don't expect any efforts to correct it to find lasting success.
This isn't a popular message today, but it's the truth: These curses are a result of our own sins. And sin always exacts a painful penalty. As the Prophet Isaiah wrote, "Woe to the wicked! It shall be ill with him, for what his hands have done shall be done to him" (Isaiah 3:11, Revised Standard Version). Proverbs 13:21 states the truth even more bluntly: "Evil pursueth sinners." •
************************************************************************************************
QUANTUM PHYSICS
........................................................................................................................................................................