Starting New Project Street Gun -

(see links below - added 9-4-06)
A Critical Look at the Springfield Mil-Spec
By Stephen Camp
It is a safe bet to say that 1911 pattern pistols are extremely popular with American shooters. There are many reasons for this and 1911 type pistols are sold in various price ranges. Enter customized pistols or truly custom 1911's built from the frame and slide up and costs can soar. One can spend from a few hundred dollars to about as much as he can afford for this classic pattern pistol.
The focus of this article is the somewhat spartan Springfield Armory Mil-Spec in .45 ACP. The Mil-Spec is a "no frills" 1911 A1 type forty-five. It does not have an internal firing pin safety ala Colt Series 80 pistols or the Kimber II guns. Its titanium firing pin has passed the drop tests mandated by some states. No longer news, the front grip strap on more recent SA 1911 pistols is rounded.
The Mil-Spec .45 ACP can be had in the following variations.
Parkerized (Product Number: PB9108L)
Stainless (Product Number: PB9151L)
Bi Tone (Product Number: PB9104L)
OD Green (Product Number: PB9609L)
For this report, a parkerized version was used.
This Mil-Spec is as it came from the box with the exception of a drop-in Pachmayer grip safety. There will be more discussion of this in the text. The Mil-Spec has a lowered ejection port with the "scallop" at the rear and fixed sights that are easy to see at speed.
As can be seen on the box, another version of the Mil-Spec is available. Now called the "GI .45 1911-A1" by Springfield Armory, it has small fixed sights and the traditional non-lowered ejection port. These can be had for about a hundred dollars less than the Mil-Spec and the main differences between the guns have been mentioned. I prefer the larger sights. The GI .45 as shown here is designated by product number PW9108L. The Mil-Spec and the GI .45 come with spur hammers and the more narrow GI type grip safeties. The Mil-Spec has slide serrations angling slightly forward while the GI gun's are vertical. If the sights on the Mil-Spec are not satisfactory and a change is planned, the WWII Mil-Spec aka "GI .45 1911-A1" might be the way to go as these run about a hundred bucks less. The one shown ejects reliably without dented cases with its smaller, non-lowered ejection port.
Specifications:
Barrel Length: 5"
Pitch: 1:16 with left hand twist
Weight: 35.6 ounces
LOA: 8.625"
Trigger: short, serrated
Trigger Pull: 5-6 lbs.
Hammer: Spur
Grip Safety: Standard GI
Stocks: Black checkered plastic
Thumb Safety: Single side, not extended typical GI
Mainspring Housing: Arched, grooved and with "safety" lock
Recoil Spring & Guide Rod: Standard GI
Barrel Bushing: Solid
Magazine Well Beveled: Yes
Loaded Chamber Indicator: Yes. It is a small slot in the top of the barrel hood.
Forward Slide Serrations: (Mercifully) none
Throated for JHP: Yes
Sights: Fixed 3-dot style (Rear sight dovetailed with front sight staked)
Firing Pin: Small diameter as for 9mm/.38 Super and made of titanium
The barrel on my pistol is stainless steel with an average barrel OD of 0.570" until you get to 0.60" from the muzzle. At that point, the OD is slightly greater, measuring 0.578". This allows for tighter lock up in battery and generally provides greater mechanical accuracy assuming that the bushing is tight.
Here you can see the stainless steel barrel in the Mil-Spec from SA. Note the "loaded indicator" slot in the barrel hood. Chambered cartridges are easy to see. I can live with or without it but it has caused no problems. Initially I had thought that this was a one-piece barrel, but barely visible about midway between the "O" in "Auto" and the end of the chamber area of this barrel you can see the hairline where the two pieces are joined. I have heard of one or two of these barrels coming apart, but have never seen it. I suspect those instances were flukes. Browning Hi Power barrels have been two-piece for decades as are current aftermarket match barrels for them from BarSto. I believe it to be plenty durable and have no intentions of changing it.
The SA Mil-Spec front sight is not serrated and is staked to the slide. This is a slight change from earlier versions of the gun that had a post front sight. While I prefer the post for sight pictures, they can be a problem if the pistol is carried in the waistband without a holster. In a proper holster that clears the sight, I've found posts to be no problem. For a carry gun this gently sloping front sight is probably a better choice.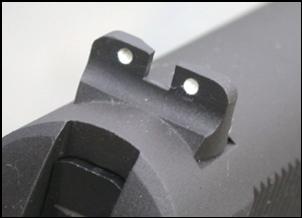 The rear sight is plain but in conjunction with the front sight provides an extremely nice sight picture. The front sight measures 0.12" while the notch in the rear sight is 0.11". This combination allows for plenty of light with the pistol's sight radius of 6.25".
Slide-to-frame fit on this gun is very good, better than expected, in fact. There is very little lateral play and none vertically. Likewise, the barrel fits the slide tightly. In battery there is no detectable movement. The bushing is snug, but can be removed without a bushing wrench. The bushing-to-slide fit is quite satisfactory, but it is not flush fitting or as nicely done as would be the case with one hand-fitted to this individual slide. It is plenty good for my purposes and never noticed by many.
Springfield Armory rates the trigger at 5 to 6 pounds. While I didn't measure it, mine is heavier than that and I'd estimate it at about 8 pounds initially. It has lightened up to a bit less after shooting. It does not break as cleanly as a 1911 having a proper trigger job, but is usable. (More on this later.)
Some tool marks are evident inside the gun, but nothing excessive and nothing that cannot be cleaned up if desired by the owner. Slide-to-frame fit at the rear of the gun is not perfectly blended as in the case of a custom gun, but neither is it "bad" or excessive. The degree to which the slide is not flush with the rear of the slide is minute and while not "acceptable" on a custom 1911, it really doesn't affect reliability for a "street gun". Most folks never notice it unless extreme; in this instance it is not.
Shooting: This pistol has had approximately 600 rounds fired through it without cleaning. Ammunition included Sellier & Bellot 230-gr. FMJ, Remington 185-gr. MC Flat Nose, Winchester USA 230-gr. FMJ, and various factory JHP's and handloads. Distances were 10, 15, and 25 yards.
During one session in which 300 rounds were fired, the web between my thumb and trigger finger got pretty chewed up, as has been my plight with GI grip safeties for decades. My problem with the SA was that the edges of the GI grip safety were sharp, real sharp, and cut two parallel lines along my hand. Combine that with the tip of the hammer nipping like a piranha in a feeding frenzy and it became more than evident that a change was in order. It is for that reason that I removed the grip safety before any further shooting and replaced it with a "drop in" from Pachmayr. It worked properly and being the shorter version of the two sold by this company, it worked fine with the spur hammer. Another approach might be to gently bevel and round the offended edges of the GI grip safety and bob the hammer spur approximately 3/16th to 1/4". (For many this is never an issue, but for me the traditional grip safety and spur hammer have always been a significant problem.)
10 Yards: This was done standing w/two-hand hold from a Weaver stance and simply consisted of controlled pairs along with a few failure to stop drills involving head shots.
Starting at a low ready each set of controlled pairs was fired in a bit under a second. There are some shots farther out than I like and part of that is due to the somewhat heavier trigger pull and the fact that while no longer being "bitten" by the gun, the scabs were wearing off and discomfort growing with each shot. None the less, results were encouraging.
15 Yards: These groups were fired standing and in slow-fire using a two-hand hold.
The Mil-Spec is plenty accurate for my purposes and I have no intentions of changing the barrel, bushing, or sights.
25 Yards: At this distance, I fired sitting and with my wrists braced. Two hands were used and shots were fired with no effort at speed. I simply wanted to see how the gun grouped at this distance.
This group was fired using a Precision 200-gr. CSWC loaded over 5.0-gr. of Bullseye powder. It averages around 860 ft/sec from most 5" 1911 pistols. Due to rain, I did no chronograph work, but will in the future. Other Springfield Armory 1911's have normally provided no surprises in velocity in my experiences with them.
Federal 230-gr. HydraShok remains popular with a great number of 1911 shooters so I fired a few groups with it at 25 yards from a rest. The ammunition used was the early truncated cone version of the load that was changed to have a more rounded ogive for better feeding. This load usually clocks about 870 ft/sec from a 5" gun.
Groups shown are the best fired, but those that were not so nice were due to me, not the gun, as I knew before looking when a shot was going to be bad. The "piranha" had taken its toll.
Observations: The gun is a keeper and one that will have different "guts" in the near future. I've not yet decided whether to retain the arched mainspring housing or go with a flat one, but I noticed no real difference in shooting. I will probably go with a long trigger. I will use a spur hammer (bobbed) as I would kind of like to have a 1911 with one since all of my others have ring hammers. The SA hammer could be used but I simply don't care for the half-cock "shelf" vs. the more traditional notch. With the SA hammer in the half-cock position, a press of the trigger will drop it. With the lightweight titanium firing pin, primers were not dented and barely marked, but not each and every time. I simply prefer the hammer not to fall from the half-cock position should the trigger be pressed.
Trigger pull will wind up being about 5 pounds and will break cleanly. The standard thumb safety that came on the gun is satisfactory as I do not shoot high thumb.
I was most pleasantly surprised that the POA vs. POI was dead bang "on" for me. Sometimes this relationship in fixed sight pistols is rather casual, but I'm more than happy with the sights on this pistol as they are and do not intend to change them.
Here are some of the rounds that were fired in the SA Mil-Spec that differ from 230-gr. ball. From left to right: 200-gr. Precision CSWC/5.0-gr. Bullseye, Speer 230-gr. Gold Dot/6.3-gr. Unique, Hornady 230-gr. FMJFP/6.3-gr. Unique, Remington 230-gr. Golden Saber/6.3-gr. Unique, Federal 230-gr.HydraShok (old style), Federal 230-gr. Classic JHP, and Remington 185-gr. MC-Flat Nose.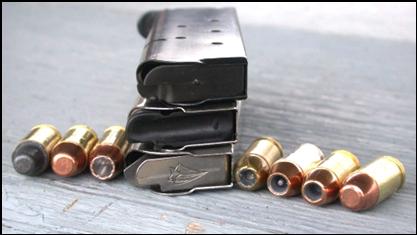 The Mil-Spec was used with several different magazines. Some are shown here with the ammunition fired using each. From top to bottom: Springfield OEM 7-round magazine, Randall 7-shot with Tripp Cobra Mag follower and spring, and an 8-shot McCormick PowerMag. The gun was also fired using Mec-Gar 7 and 8-shot magazines, Wilson 7-shot mags, and some 7-shot Colt magazines.
With just over 600 rounds fired, this Mil-Spec has had exactly zero malfunctions. Feeding and extraction have been smooth and positive. (I'd checked the extractor and it seemed to be tensioned properly. I left it alone.) The slide stop never failed to lock back after the last shot was fired and it never locked the slide back with rounds still remaining in the magazine. It did this with all magazines tried.
None of the magazines fit too tightly in the magazine well and all dropped freely when released.
Ejected cases do strike the slide, but recovered cases showed no dents.
The ejector is pinned in place and measures 0.99" from the top of the rear to the front upper tip. A solid steel pin is used. All ammunition used was easily cycled and ejected by hand without hang ups and none of the primers were marked by the tip of the ejector.
With the full-power mainspring, the titanium firing pin had no problems with primers not being set off. I have not yet decided whether or not to change this. So far it has not been an issue.
Depending on where one looks, this version of the Mil-Spec can be found at around $500 or a bit less and I believe it is money well spent if a person's looking for either a base gun for further enhancement or to use as is. I'm satisfied with the parkerized finish as I prefer dark guns, but the pistol can be had in stainless steel construction and other finishes are certainly available.
My plans for this particular Mil-Spec are for it to become a trusted carry gun. I have a Norinco that meets such duties now and while in the same general price range with its minor upgrades, they are getting hard to come by. The Mil-Spec is not and neither does it cost so much that it is out of too many folks' financial reach. While I cannot say that each and every Mil-Spec will function as flawlessly as this one, I do believe that they can with very little effort. This one worked perfectly with or without shock buffs in place.
The SA Mil-Spec can be a very good carry gun and one that doesn't break the bank if dinged up a bit as is normally the case when a pistol is carried daily. Should a person have to use it against another human being, the time that it is in evidence might be a bit less traumatic than were it a 1911 costing several times as much. Do not misconstrue my last sentence. There is absolutely nothing wrong with carrying an expensive sidearm for the very important business of protecting one's hide, but for many of us, this pistol is capable of being a most satisfactory defense gun.
This Springfield Armory "low end" 1911 is neither my favorite nor best looking 1911, but it is proving to be one that I enjoy, will use, and more importantly, trust. Many of us have some really nice custom and customized 1911's...and I fall into that group. At the same time I really like "using guns" that perform well and this gun is proving itself to be perfect for such perceived needs. When I eventually get through with the changes necessary to suit me, it will still look very much like an out of the box Mil-Spec but I suspect that it will perform at a level that belies its "basic" look.

..............................................................................................................................

Mr. Stephen Camp and I are going to start taking names of very intertested sincere people for our fifth Project Street Gun Class. You can email me at tjacobson@houston.rr.com or you can call me at 281 565 6977.

Teddy

http://www.actionsbyt.com
www.tacticalknives.blogspot.com
www.truthaboutparts.blogspot.com
www.tjofsugarland.blogspot.com

http://hipowersandhandguns.com